In this tutorial I am going to show step by step process of drawing hair with a pencil.
Materials required:
- A sheet
- HB pencil
- 2B pencil
- 68 pencil
- A blank paper(you will need the paper to place it under your hand so that you dont smudge the tones you are creating).
KEEP YOUR PENCILS SHARP! Let's get started!
End result: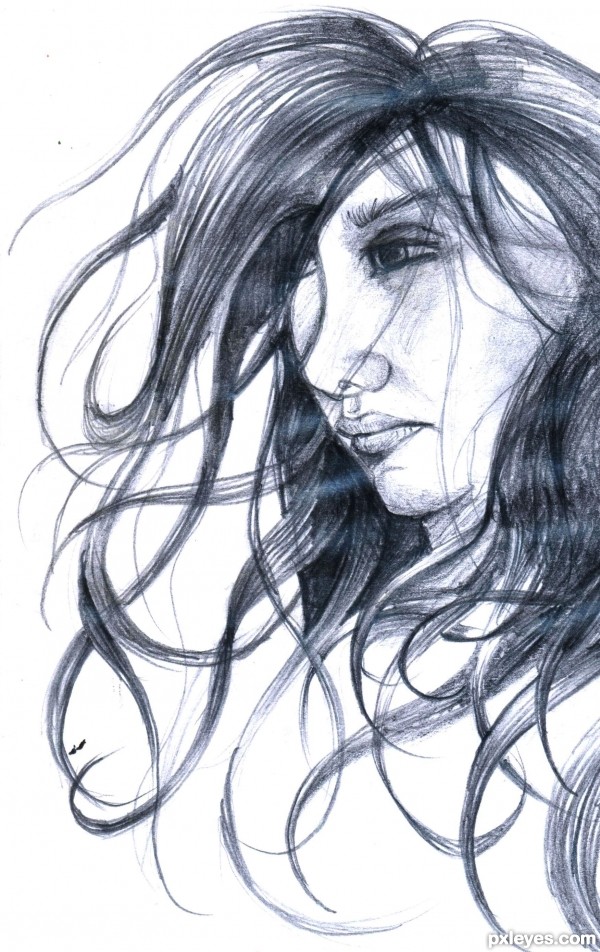 Author:

Views: 2715
Score: 7.83 / 10
Author earned: $10
Step 1
In this tutorial i will focus only on hair drawing. I've started with a face already drawn.
Draw your sketch with sharp HB pencil.
Hair is "crazy". They go anywhere. So while drawing hair dont get scared .Just remember the motion of hair and keep drawing.
In this case girl's hair is blown away by the air. They are wavy.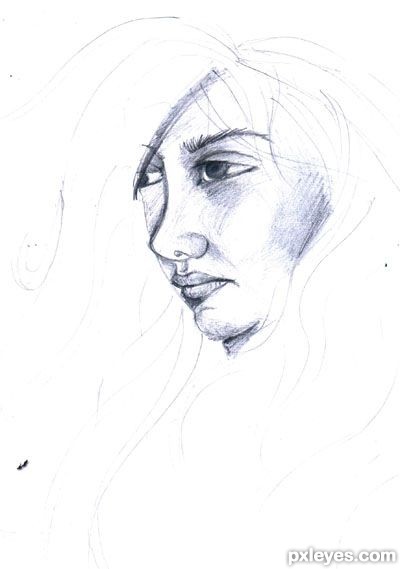 Step 2
Keep in mind the motion of the hair. Move your pencil very lightly according to the motion of hair.
I have used 6B to start filling the hair.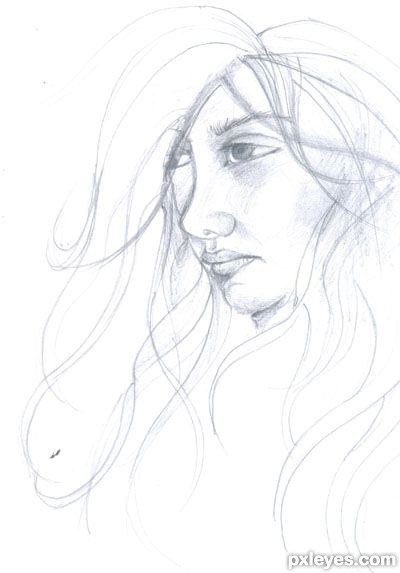 Step 3
There are three main tones...highlight, middle tone and depth.
Fill the dark areas with 6b and then smudge it lightly with finger or cotton...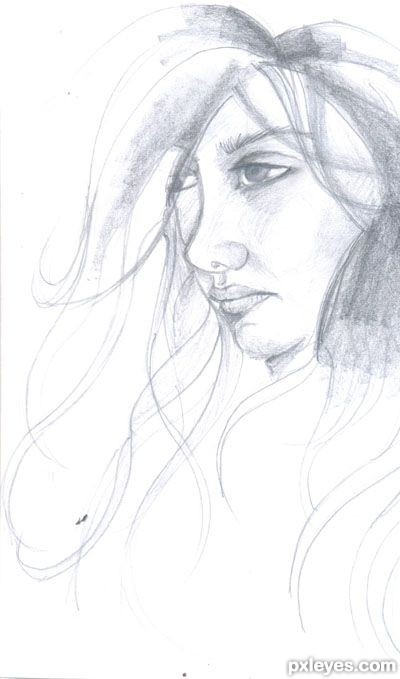 Step 4
In the figure below, I have shown the direction in which you will move your pencil. In this way the fill the hair. From dark to light... Leave it white where you want to show highlight.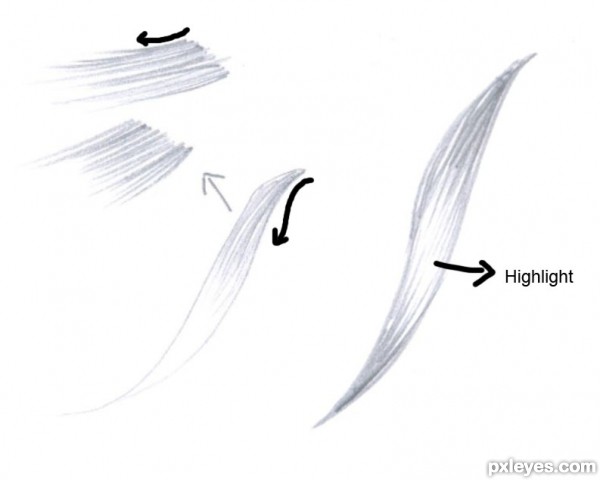 Step 5
We need crisp lines. So either use mechanical pencils or keep the sharpeners in your hand. Keep in mind the direction and motion of hair. Move your pencil accordingly.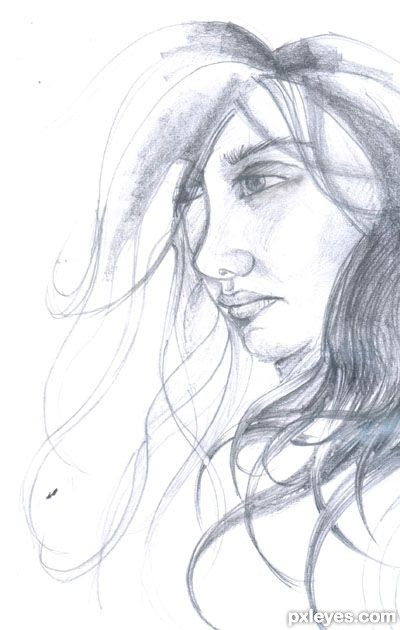 Step 6
Now we are doing the left side of the head. Its the same process. Move your pencil lightly...with some blunt lines, some crisp lines....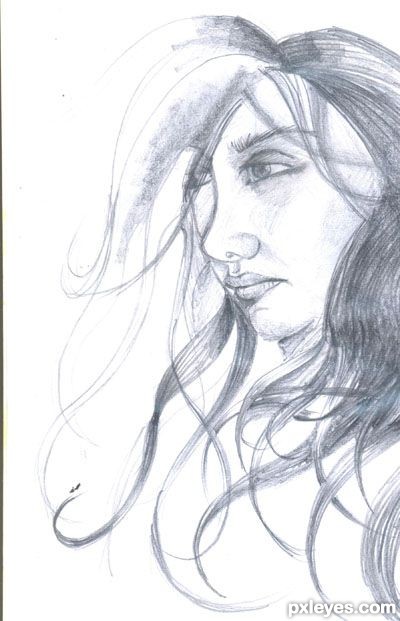 Step 7
I am adding some more chunks of hair...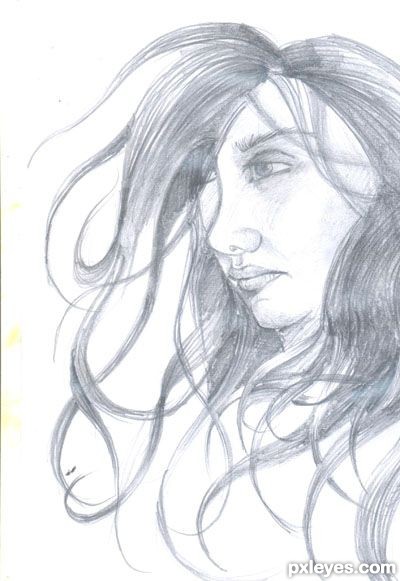 Step 8
While you draw line dont flatten the tones you have created. Add some depth...
Now we have to draw the hair on the face. This is to be done very carefully. Use your sharp HB pencil and draw the hair very lightly...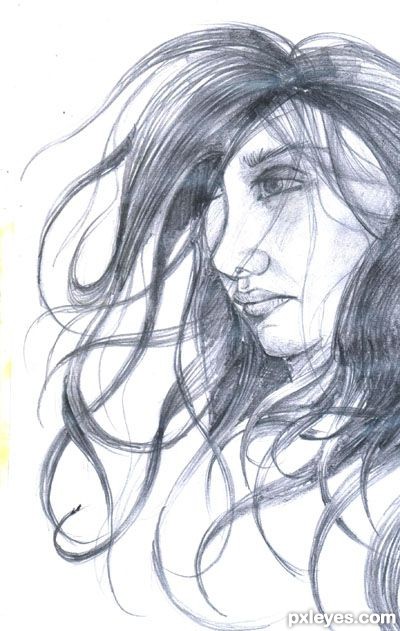 Step 9
With adding a little depth its done....